News and Events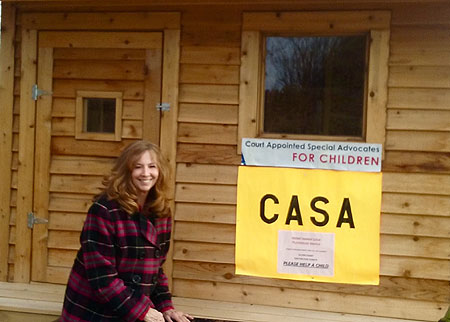 CONGRATULATIONS to the Playhouse Raffle winner:
Linnet Doane from Shelby.
---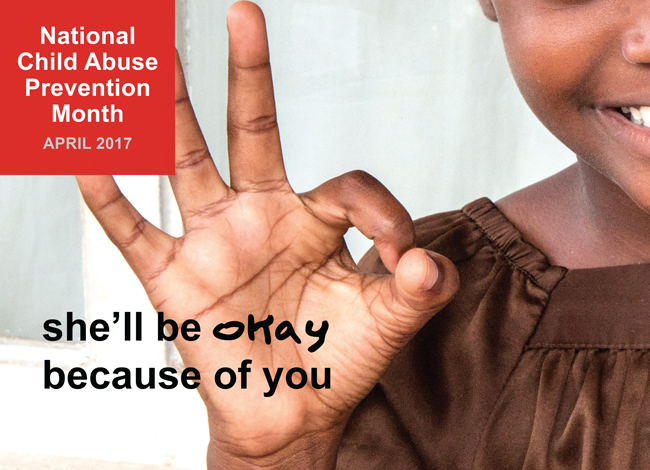 FRONT RANGE CASA Calls Local Residents to
Action for Child Abuse Prevention Month
In honor of National Child Abuse Prevention Month, Front Range CASA is issuing a call to action for residents of the 9th Judicial District, Glacier, Pondera, Teton and Toole Counties to stand against child abuse and take action to support children who have been abused or neglected.
At any given time, Front Range CASA provides advocacy for nearly 100 children. Many who are in foster care in Montana. These children come into the child welfare system through no fault of their own. We are seeing a huge increase in cases due to use of illegal drugs.
"The needs of our children coming into care are more complicated than ever before, and life in foster care can be chaotic," said Kiersta Sullivan, Executive Director. "Every child deserves the support of a caring, consistent adult with the training to help them heal and thrive."
Throughout the month of April, Front Range CASA is calling on members of the communities to help our program serve more of Montana's most vulnerable children.
Without intervention the odds are stacked against children in foster care. A child with a Court Appointed Special Advocate volunteer, however, will leave the foster care system two and a half months earlier, on average, compared to a child without a CASA volunteer. Studies show children with a CASA volunteer receive more services that are critical to their well-being than children without an advocate, and those children are more likely to achieve educational success.
"CASA volunteers are a constant for the child in a time of chaos," said Sullivan. "A child may have multiple social workers, attorneys, therapists and foster placements throughout the life of the case but only one CASA volunteer, which can make all the difference for the child's future."
Front Range CASA is a member of National Court Appointed Special Advocate Association (National CASA), a nationwide network of programs in nearly 1,000 communities. At the heart of the movement are nearly 77,000 highly trained volunteers who advocate for the best interests of more than 250,000 of America's children who have been abused or neglected. In the 9th Judicial District there are 24 highly trained volunteer advocates fighting for the best interests of over 70 children.
For more information about Front Range CASA, to become a supporter or a volunteer, contact us or call Sullivan at 576-7041.
---
CONGRATULATIONS TO THE TV RAFFLE WINNER!


Dede Brown from Conrad.
ARE YOU READY FOR SOME FOOTBALL??
​The Super Bowl is getting closer and no matter who your team is, it seems to be a game everyone watches, from touchdowns to half time entertainment. Front Range CASA is raffling off a 48" Samsung Smart TV just in time for the game. This TV, donated by Billman's Home & Décor & Edward Jones, Mike Bruch, Financial Advisor, will make watching the game seem like you are right there.
​Front Range CASA is excited to take part in this raffle. The drawing will be held the second week of January, 2017 and you need not be present to win. The winner must pick up TV at Billman's in Cut Bank.
​Tickets are $10.00 each or a ticket book of 5 for $40.00 and can be purchased from any board member, at many local businesses, or by contacting Executive Director Kiersta Sullivan t 576-7041 or frontrangecasa@3rivers.net
​Money from the raffle will go towards providing a trained volunteer to advocate for an abused and/or neglected child in the 9th Judicial District. This is a great opportunity to show your support for CASA while taking a chance on winning a Smart TV.
---
Front Range CASA expresses appreciation to Billman's Home Décor and Cut Bank community for Christmas Giving Tree
December 2016
​Front Range CASA would like to thank Doug and Val Vermulm, Billman's Home Decor and the generous people of Cut Bank who took part in the CASA Christmas Giving Tree again this year. Billman's Home Décor has been a strong supporter of the Front Range CASA program since it started. Each year they place a giving tree in their store.
We are overwhelmed at the generosity of the community members who go to Billman's Home Decor and take a tag to purchase a Christmas item for a child in need. This year we had a huge need for winter coats for the children and once again the community's response was heartwarming.
​The tags that were placed on the tree list the sex of the child, the age and size. The gifts were returned fulfilling every request that was made. Not only did most people buy the requested item for the child, but most also bought a toy or something fun for the children.
Front Range Court Appointed Special Advocates is a nonprofit organization that provides trained volunteers to advocate for the best interest of an abused and/or neglected child in the 9th Judicial District involved in the court system. These are innocent children who through no fault of their own suddenly find themselves involved in an overwhelming system.
Many of these children are removed from their homes and placed in foster care. Many are moved to a different community, leaving behind, not only their homes, but their family, friends, pets and schools. The role of the advocate is to be the eyes and ears for the judge. The advocate is often the only consistent person in the child's life.
​One of the best things about living in a small community is when there is a need the community just pulls together and makes it happen. Seeing the smile on a child's face when they get a gift is so rewarding.
​Executive Director of Front Range CASA Kiersta Sullivan and all the program's volunteers extend their heartfelt thanks to the Vermulms, Billman's Home Decor and the Cut Bank community for the continued kindness and generosity again this year.
On behalf of all the children, whose Christmas was made extra special this year, thank you!
---
The following article was in the Conrad Independent Observer on Thursday, April 14, 2016.
Written By Daryl Engelby
Kiersta Sullivan was my CASA worker when I was placed into the foster care system five to six years ago. She not only encouraged me while I was in foster care, she also stuck with me until I was placed into a home.
My siblings were in Conrad, so Kiersta helped me stay in my hometown because she doesn't believe in splitting up a family. She understands that family is everything because we all need family to get through hard times. She was always there for me when I needed someone to talk to, and she is like a mother because she was always worrying about me and wanted to make sure I was always safe.
But here's the thing, after I was placed with the Diedrich's, Kiersta didn't stop contacting me. She would call and make sure everything was going well. We talked at least once or twice a month, in person, throughout my high school education. She didn't have to stay in touch with me, but she chose to, so she could help me achieve my goals in the future, beyond High School.
My senior year she helped me find scholarships to fill out for the degree I wanted to get in college. She is still helping me by finding new scholarships for me to fill out while I'm in college. She has taken her time to help me still when she doesn't need to. Like I said, she's like a mother to me, and she helps children like me achieve their future goals because she has a beautiful heart. She has done a lot for me, and for that, I am very grateful.
Nobody longs for a safe and loving family more than a child in foster care. As a CASA volunteer, you are empowered by the courts to help make children's dreams a reality. They will not only bring positive changes to the lives of the children they're helping, but also to their children and generations to come. Kiersta influenced my future along with many other children, who needed help. Many people don't know what CASA stands for or what they even do. I didn't until I was one of those children, several years ago.
CASA stands for Court Appointed Special Advocate. Together with its state and local member programs, the organization supports and promotes court-appointed volunteer advocates so every abused or neglected child in the United States can be safe, have a permanent home and have the opportunity to thrive.
The role of local CASA is to recruit, train and support these volunteers in their work with abused children. Volunteers get to know the child by talking with everyone in that child's life: parents and relatives, foster parents, teachers, and others who know the child very well. They use the information they gather to inform judges and others of what the child needs and what will be the best permanent home for them.
These people work their tails off to help children in need, and we can help prevent child abuse and help the children that need the support from people like Kiersta and everyone who helped me out.
Thank you Kiersta Sullivan for what you have done for me and all the other kids like me. I also want to thank all the CASA workers for helping children in need. It means a lot to have someone help flip your life around and to achieve future goals. Thank you, everyone, for what you do because it can impact a kids life like Kiersta impacted mine, along with others, for which I'm truly thankful for all your help.
---

April 2016

​April is National Child Abuse Prevention Month. It is a time when caring people go the extra mile to raise awareness of the terrible toll that abuse and neglect take on the lives of children in your community. Everyone can play a role in preventing this.

​At Front Range CASA (Court Appointed Special Advocates) we are the voice for abused and neglected children EVERY month of the year.

​When children who have been abused or neglected grow up without a strong support system, without the focused help they need to heal, it's not only their own lives that are shattered. Research shows that they will be much more likely to abuse their own kids one day. And so the cycle continues.

​Front Range CASA is breaking that cycle by ensuring that abused and neglected children have the chance to recover and to find a permanent home. With a trained and supported CASA volunteer by their side, in court, in the child welfare system and in the foster care system, foster children get a real opportunity to grow up strong, stable and successful.

​But we cannot help abused and neglected children-today or for generations to come-without your support. Front Range CASA, the CASA volunteers that we recruit and supervise, and the more than 100 foster kids we represent every year rely on people like you to support in our mission.

​During National Child Abuse Prevention Month, Front Range CASA is educating people in our communities about everyone's role in breaking the cycle of abuse and neglect. It begins with ensuring that every child who's taken from an unsafe home and put into foster care gets the support they need to thrive.

​Additionally we are in desperate need of volunteer advocates. If you'd like a more direct way of helping the children in our area, PLEASE contact me.

​During this special month of awareness for Abused and neglected children, will you please consider making an investment in them and in their future?

Thank you for your confidence and support.
Kiersta Sullivan
---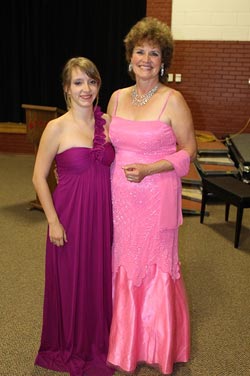 BENEFIT CONCERT FOR FRONT RANGE CASA
March 6th, 2016
Sally & Whitney Aschim Performance

WOW! AMAZING! AWESOME! These are a few of the comments heard from the audience following the performance by Sally and Whitney Aschim.
The concert included Broadway and Movie Showtune music.
The mother/daughter duet started the evening with The Prayer- from the 1998 Quest for Camelot. Next Whitney amazed the audience with Someday-from the 1996 Hunchback of Notre Dame, while Sally went backstage to do a costume change. Then Sally came on stage singing God Help the Outcasts- also from the 1996 Hunchback of Notre Dame.
Whitney then took the stage dressed as the Snow Queen Elsa and sang a favorite Let It Go-from the 2013 Disney Animated Film Frozen. Then Sally took the stage dressed as Grizabella, a one-time glamour cat, and treated the audience to Memory-from the 1981 Broadway hit Cats.
Whitney stepped onto the stage to sing Popular-another Broadway hit from
2003 Wicked. Following this, Sally arrived on stage with Toto to perform Somewhere Over the Rainbow-from the Wizard of Oz.
After a brief break during which emcee for the event, Susan Gustafson, entertained the audience and shared some facts about the Front Range CASA program, the duet was back on stage to belt out For Good- another tune from the Broadway hit Wicked.
Quick costume change and Whitney was back to entertain the audience with Colors of the Wind-from Pocahantas. Then on to another duet, I Dreamed a Dream-from Les Miserables. Whitney then performed a solo also from Les Miserables, Own My Own.
Sally then brought tears to many eyes with her rendition of Moon River, from Breakfast at Tiffany's that she dedicated to her dad, Bud Peters.
The finale was a duet, Somewhere-that they dedicated to the CASA Board Members and especially to each giving, unselfish CASA Volunteer out improving the lives of Montana's local children and families.
The Aschim duo had many costume changes and delighted the audience with their talent. A huge thank you to these amazing women who graciously performed a free will concert with the funds raised to benefit Front Range CASA.