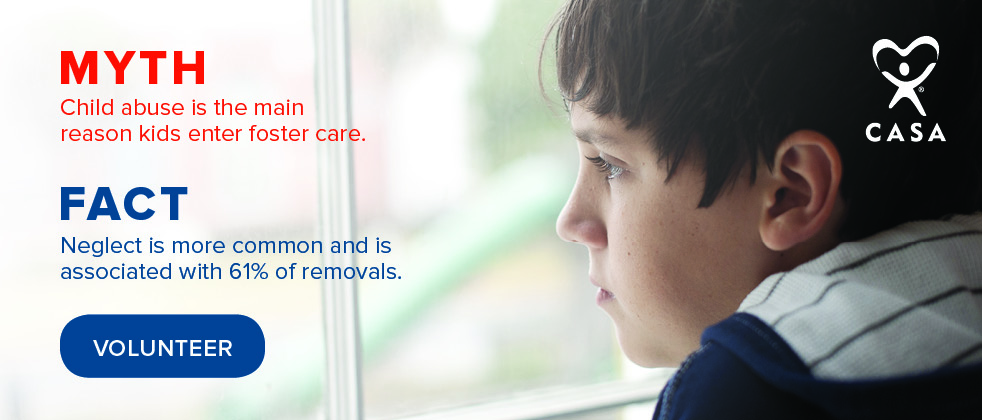 Front Range CASA Urges Residents to Act Against Child Abuse
During National Child Abuse Prevention Month in April, Front Range CASA/GAL, Inc. challenges residents to take a stand against child abuse and take action to support children who have been abused or neglected.
At any given time, there are between 70-90 children in foster care in our area. These children come into the child welfare system through no fault of their own. Many are victims of the opioid epidemic that is spreading throughout the state.
"The number of children coming into care continues to grow and we aim to meet that need," said Kiersta Sullivan, Executive Director. "Every child deserves the support of caring, consistent, trained adult to help them find a safe, loving home where they can heal and thrive."
Without intervention, the odds are stacked against children in foster care. A child with a Court Appointed Special Advocate (CASA)/guardian ad litem volunteer, however, spends 20 percent less time in foster care, on average, compared to a child without a CASA volunteer. Studies show children with a CASA volunteer receive more services that are critical to their well-being and are four times more likely to find a permanent home.
"CASA volunteers are a constant for the child in a time of chaos," said Sullivan. "A child may have multiple social workers, attorneys, therapists and foster placements throughout the life of the case but only one CASA volunteer, which can make all the difference for the child's future."
For more information about becoming a supporter or to volunteer, visit our volunteer page .

If you read the paper or watch the news, you already know the magnitude of the opioid epidemic in this country. While lawmakers, public officials, and the media focus on the public health crisis, we focus on the silent victims—the children.
Of course, parental substance abuse isn't new, and we have always advocated for the best interests of children who have experienced abuse or neglect as a result of a parent's addiction.
But over the last five years, the number of children in foster care across the country has risen 8 percent, which public officials increasingly attribute to the growing use of opioids. Sadly, we expect this number to continue to climb. Which means our role—and yours—has never been more important.
We have more than 20 volunteers fighting every day to help more than 55 children get the support and services they need. And that's just the start. We are raising awareness about this issue and actively working to grow our volunteer base to be there for these children.
It takes a movement of committed individuals to speak up for these children. You are an important part of the CASA movement. Please visit our website and make a gift to today or inquire how you can become a Voice for a Child. In doing so, you will help give a child the support of a dedicated, highly-trained volunteer who will make sure they don't get lost in the system and have what they need to heal and thrive.
Having a CASA volunteer to put a child's best interests before all others can make all the difference.
Together, we can help child victims of the opioid crisis.
Thank you.
Kiersta Sullivan
Executive Director
WHAT IS CASA?
​CASA's are ordinary people. We come from all walks of life, all across the country.
​We are trained volunteers who step up to assist judges and serve the nation's most vulnerable children as court-appointed special advocates (CASA).
We work in our own communities, but we share a common set of values.
We believe in the rights and dignity of children. We are committed to putting that belief to work for children who have been abused or neglects. And we hold ourselves to the highest standards of excellence in service.
Across the country today, we serve more than a quarter million children. Hundreds of thousands more children need our help.

WE ARE THERE FOR THE CHILD.
Whatever their age, children removed from home because of abuse or neglect face a frightening, profound unknown.
We make sure they don't face it alone.
We stand by them. We are there whenever they need us, for as long as it takes to reach a safe, permanent home. We are strong, compassionate adults who are a consistent presence, who care, who listen, and who put the child's interests before all others. We give children a say in what is happening to them. We speak for them when they cannot speak for themselves.
We help them heal and thrive. We give them the support they need to become happy, successful adults.
We help them find the road home, wherever it lies.
WE ARE THERE FOR THE JUDGE.
To make decisions that affect the rest of a child's life, judges need to know the child. We help them do that.
We take the time to get to know the child at the heart of each case. We go where they go. We talk to the people who touch their lives-parents and foster parents, family members, teachers, doctors, neighbors, daycare providers, friends, child protection specialists, attorneys and therapists.
We gather the details only a dedicated volunteer can deliver.
Every visit, call and report we make gives judges what they need to act in the best interest of the child. Every detail helps judges move the child out of the system and into a permanent home.
WE ARE THERE TO CHANGE LIVES.
And we do. Children who have a court-appointed volunteer receive more of the services that are critical to their well-being than children who don't. They are more likely to succeed in school.
And while their cases are among the most difficult and heartbreaking, children with a CASA cycle through fewer foster placements and spend less time in foster care.
They reach safe, permanent homes and loving families more quickly. What's that worth to a child? To a community? To a nation? The answer in dollars is impressive: $540 million a year in savings on foster care alone.
The answer in everything else we value as a society-health, happiness, resilience, hope, strength, human potential, faith in ourselves and in our neighbors-is beyond measure.
WE ARE NOT ALONE.
Our work with children is one-on-one, but we do not work alone.
We are a movement, a group of people who have come together to advance a shared goal.
Our movement includes nearly 1,000 state organizations and local CASA programs that currently support nearly 77,000 volunteer in 49 states and the District of Columbia.
It includes the National CASA Association, which delivers state-of-the-art, rigorous training program and tools, provides quality assurance support, and raises public awareness about the needs of the children we serve.
And it includes judges, attorneys, policymakers, donors and friends.
What are CASA volunteers?
Court Appointed Special Advocates (CASA) for children volunteers are the voice of the child and ensure that the rights of abused and neglected children are being protected.
A child who has a CASA volunteer finds permanency quicker, does better in school and is half as likely to languish in the foster care system.
Most importantly, CASA gives a voice to the child in court.
How do CASA volunteers investigate a case?
To prepare a recommendation, the CASA volunteer talks with the child, parents, family members, social workers, school officials, health providers and others who are knowledgeable about the child's history. The CASA volunteer also reviews all records pertaining to the child: school, medical, case worker reports and other documents.
How are CASA volunteers different from social service caseworkers?
In Montana, social workers are employed by the state, sometimes working on many cases at a time; they are frequently unable to conduct a comprehensive investigation of each case. The CASA volunteer has more time and a smaller caseload to investigate. The CASA volunteer does not replace a social worker on a case; they are an independent appointee of the court. The CASA volunteer thoroughly examines a child's case, knows about various community resources and makes recommendations to the court independent of state agency.
Utterback School Bobcats vs. Grizzlies and the winner is Front Range CASA

Thank you for supporting our program!
---
CONGRATULATIONS!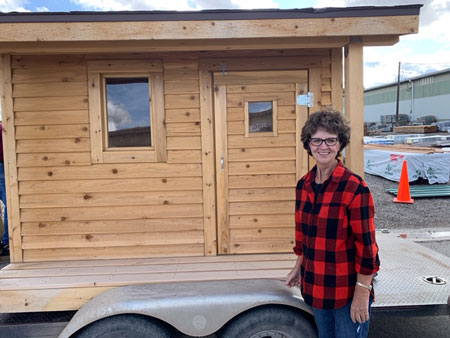 The winner of the 2019 CASAs4CASA playhouse is
Bobbi Richter from Augusta.
"Sponsor a Child for 2020"
All money donated through the Sponsor a Child campaign will be used to purchase supplies that are needed for the children. These children need items throughout the school year and your donation will help the CASA meet these needs. Items such as diapers, school supplies, activity fees, shoes, seasonal clothing and other items identified by the child's advocate are among the items that we find children needing throughout the year. Donations to Front Range CASA are tax deductible. Any donated amount will be greatly appreciated and go directly to the needs of these abused and neglected children.
---
Thank you to Ray and Norma Bukoveckas


for your years serving on the Front Range
CASA/GAL, Inc. Board of Directors